Expert Palm Springs Landscaping Company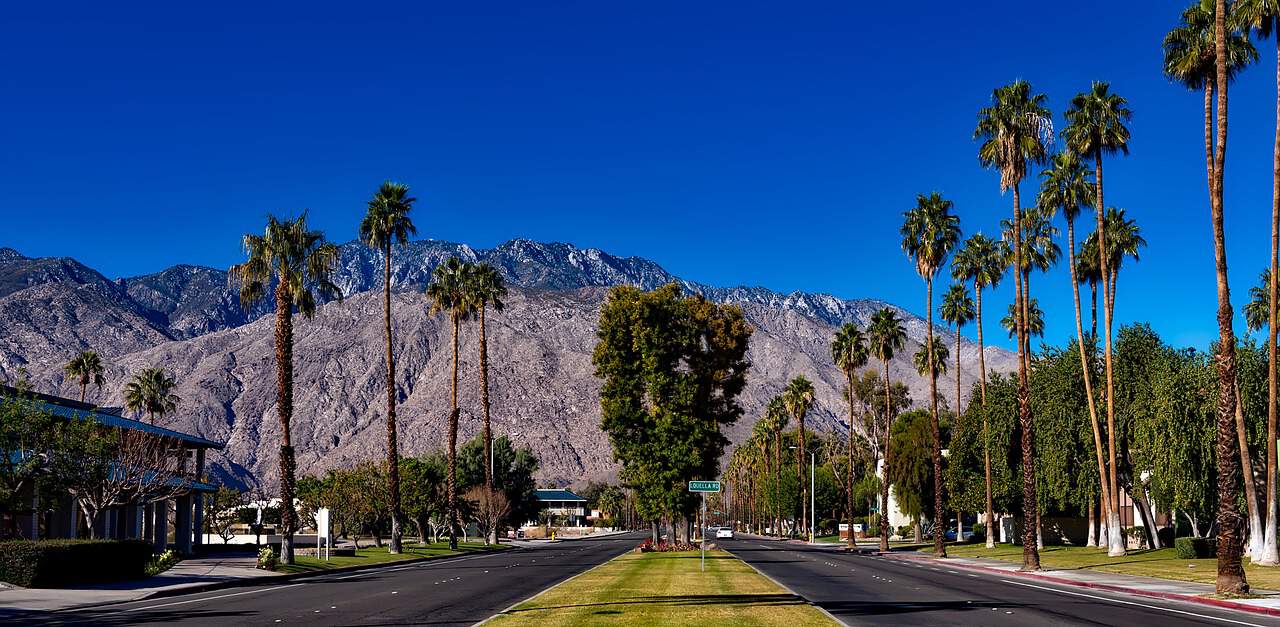 Water Wise Landscape caters to residents looking for Palm Springs landscaping services. We have years of experience with everything from planting to hardscaping. We specialize in providing timely and efficient landscaping services to homes and businesses from within the Palm Springs and San Diego County areas.
We also strive to provide Palm Springs landscaping customers with the most beautiful, eco-friendly, and thriving landscapes. We are always looking to lend our expertise and skills to people, whether they are just looking for improvements to an existing landscape or ready to take the plunge into the new construction of their dream landscape. Water Wise Landscape and our staff will be on hand to walk clients throughout the various phases of installation – from the design to construction, and even maintenance.
The Services We Provide Include:
Palm Springs Landscaping
Palm Springs landscaping can be a challenge to many homeowners. The perpetually warm climate in the desert city necessitates a unique approach to landscape design. Water supply is not in abundance, and most plants would not survive the harsh environment. Landscape contractors who are not privy to the eccentricities of a desert city will struggle to provide a landscape design that is both attractive and sustainable.
This is why hiring a Palm Springs landscaping contractor like Water Wise Landscape is imperative if you live in Palm Springs or any neighboring area within the Coachella Valley. As a local commercial landscaping company, Water Wise Landscape can deliver a landscape design that is well-suited to the desert city. We also provide all the relevant services, including pool cleaning, lawn care, and gardening services, so you don't have to juggle different contractors just to get the dream desert landscape you have always wanted.
Palm Springs Landscape
A Palm Springs landscape does not need to be barren and featureless, just because of the desert city's limited resources or palette. We have the expertise and knowledge needed to design and install stunning desert landscapes, along with proper maintenance and repairs if needed. There are many landscaping contractors out there, but we are the only local company that truly understands the unique needs and requirements of Palm Springs residents when it comes to landscaping. Our work will speak for itself when it comes to aesthetics, functionality, and cost-efficiency.
Palm Springs Landscapes
Palm Springs landscapes will turn your property into a virtual oasis, as it highlights the beauty of an environment that is both clean-looking and refreshing, while still remaining functional and low-maintenance for the homeowners. We carefully select plants that have dramatic, architectural qualities but don't require too much upkeep. The elements of Palm Springs landscapes bring out the natural appeal of greens, grays, and browns without looking out of place beside your house's existing design.
If needed, Water Wise Landscape can design a backyard landscape that fits the very definition of a living desert garden with custom patio pavers and walkways that stand out from the conventional boring concrete sidewalks and patios.
Landscape Design
We have years of experience in landscape design, and we have access to third party contractors that have decades of experience providing quality cost-efficient service. Water Wise Landscape is fully capable of providing options that will match your taste, style, needs, and budget. We can even remove existing pavers and check the base for any quality issues. Afterwards, we can fix and reinstall a new patio paver system that will last for many years without the need for constant maintenance or repairs.
Palm Springs Gardening
Lush lawn-led landscapes is not exactly the first thing that comes to mind when people think of a desert city, but Palm Springs bucks that trend. Any front lawn in the city can be converted into a proper green landscape through creative application of domestic arid landscaping. There are desert appropriate plants that can survive in the unforgiving climate. As a bonus, these plants are so sturdy that they require less pampering compared to other plants. Most of these low maintenance plants are native to the Coachella Valley, so we are easily able to employ them for the beautification of your garden landscape.
Landscaping Ideas
Water Wise Landscape can create stunning works of art out of your backyard landscape, but we can also incorporate your landscaping ideas into our work. This will ensure that the results of our hard work will exceed or satisfy your expectations. We understand that your home is your castle, but instead of a moat, you want to surround it with a functional, aesthetically pleasing landscape full of warmth, color, and texture. We will employ the most attractive and functional landscaping ideas to provide the stunning outdoor living space that you have always wanted.
GET A FREE QUOTE!
Water Wise Landscape is the go-to name in the Palm Springs landscaping and San Diego County areas when it comes to world-class landscaping services. We have a reputation for being the best in our chosen field, and we take pride in our client-focused approach to providing landscaping services.
We aim to give your property the most stunning, architecturally sound landscape in the neighborhood. But our commitment does not end with the construction. We understand that many property owners rarely have the time needed to construct and maintain a landscape. If you find yourself in a similar situation, we are here to help. We will help bring life, color, and style to your property and if needed, will be on hand to provide guidance and training with regard to maintenance so that you can enjoy your beautiful outdoor space for years to come.
There are many Palm Springs landscaping services out there but Water Wise Landscape stands out because we stand behind our work, and we employ only the most experienced and most skilled landscaping contractors in the industry. We keep ourselves abreast of current advancements in the landscaping sector, which ensures that the properties we handle will only get the most innovative techniques, materials, and landscaping available in the market.
Water Wise Landscape takes into account that there's more to landscaping than simply improving the aesthetics of a property. We understand that a good outdoor area will do wonders in improving the value of a property, whether it's residential or a business establishment. We also take into account the more utilitarian aspects of landscaping – we design landscapes that will help improve the temperature during seasonal extremes. This is particularly important in the San Diego region, where the climate is arid and particularly warm throughout the year. We are able to use landscaping methods that both preserve the beauty of nature, while enhancing the living conditions in your outdoor living space.
SEE OUR GALLERY!
Finally, we understand that a landscape is a big investment and that people have different needs and budgets. So we are always willing to meet clients halfway and customize our services to fit their financial capabilities. Call us today and ask for a quote, and we will do our best to provide you with the landscaping service that meets your needs and capabilities, while still giving you the beautiful landscape that neighbors will envy.
The Best Commercial and Residential Palm Springs Landscaping Services
There are many Palm Springs landscaping companies out here, and it is very easy to choose the wrong one so you need to ensure that the contractors you hire are the best choice. Water Wise Landscape stands behind our work and our staff. We select only the best and most skilled landscaping contractors, and take pride in ensuring that your property maintains its value and its beauty.
We understand that properties rely on visual appeal, and that greeneries and flowerbeds help a great deal in encouraging people to come and visit. Water Wise Landscape, both the people who make up the company and the company itself, has years of experience delivering top-notch service to people within Palm Springs and San Diego areas. We have crafted stunning landscapes for churches, apartment complexes, schools, offices, and even residential homes.
We can accommodate clients who know what they want, as well as clients who have no idea where to begin. Our landscaping contractors are capable of providing various levels of assistance depending on the needs of the client. We can create stunning landscapes that meet your suggestions, and we can also bring designs to life exactly as you imagined them.
Water Wise Landscape provides gardening services as part of our package. This includes weed control, sodding, planting, and regular garden care if needed. We are the perfect choice if you have plans to host an outdoors special event such as a garden wedding or a party. Just show us where the landscape is needed, and we'll make your amazing outdoors a veritable oasis full of plants, flowers, and if needed – even a beautiful gazebo.
We will help keep your property visually appealing all year round. Our hardworking Palm Springs landscaper crew will do everything from weed control to brush clearing in order to prevent your beautiful landscape project from looking worse due to time and neglect. We can also provide training in order to help you identify and clarify all the factors involved in making the landscape looking good and well maintained all year-round. Your property is an investment and you will find it money well spent when it continually makes a good impression on visitors.
Water Wise Landscape is the most renowned company in the Palm Springs area when it comes to Palm Springs landscape services. We are perfectly aware that not all outdoor spaces look beautiful from the get-go. Most of them require experienced and skilled landscape artists in order to truly come alive. We stand by our ability to provide this service.
Palm Springs landscaping also provides benefits outside for making an outdoor space look appealing. In some cases, a properly maintained landscape can even save you on costs that would normally go towards cleaning, repairs, and wasted energy costs on cooling and/or heating. Our landscaping contractors have a keen mind that also takes practicality into account. Our landscape projects are energy and cost-efficient, and we provide all the features that help make your life more convenient. We take great pains to ensure that your outdoor space will be a great asset to your home or business.
Landscaping is a great way to revitalize property that has been neglected. Proper landscaping can stabilize sloped surfaces and make land usable again. By turning an eroding hill into terraces, the formerly unsightly and unusable space becomes a visuall arresting property. This applies to both businesses and home properties, as the installation of new landscaping can significantly improve the look and become the first line of defense against erosion and degradation.
We make sure that our projects embody great design, but it is not our sole priority. Our landscaping projects also help protect against soil erosion. This means properties that we handle are made safer, and can be repurposed as usable spaces for a kid's play area, a grassy hangout, or a patio.
Different places have different levels of complexity, but we have experience dealing will all manner of landscapes, whether it's a simple grass area that needs paving or a complex overgrown property with trees and rock formations that need to be built around. We also handle cases that require proper drainage, or ones that already have an existing landscaping installation but need upgrades to be compliant with modern safety standards.
Water Wise Landscape's crew of experienced landscape contractors can provide regular landscaping maintenance according to your preferred schedule – whether it's monthly, weekly, or yearly. This service covers everything from repairs, checkups, and even installation of large components such as an irrigation system. Our main goal is to provide the best care and maintenance for your landscape, with particular attention given to plant care and weed control.
All of these services are structured around an excellent customer support framework manned by staff that are quick, knowledgeable, and easy to talk to. No customer will be left wanting for support and we consider all questions and concerns worthy of our attention, no matter how small or seemingly inconsequential.
Clients will not have anything to worry about because we are bonded, licensed, and insured to protect any project we do for you. We prioritize the customer's safety and security when dealing with our staff and contractors. If you are in the San Diego area and in need of a landscape contractor, do not hesitate to contact us.
GET A FREE QUOTE!
One of our specialties is rock walls. We are able to construct rock walls that interlock seamlessly in order to provide optimal drainage and stability. Our contractors are experts in all manner of rock wall construction, and can produce unique, creative-looking designs that provide the best of both worlds – the best functionality and aesthetics without sacrificing one for the other.
At Water Wise Landscape, we strive towards perfection and it is this same drive that led to our company's longevity. We are one of the more renowned landscaping outfits and our reputation is backed by competence, skill, and a willingness to always put the customer first. Our goal for every landscape project is to make everything seamless from conception to completion.
We always work towards meeting a customer's expectations, and take great pains to protect our credibility in the eyes of existing and potential customers. This is done with excellent communication and unparalleled workrate.
Over the years, we have grown large enough that we are now able to take on different projects regardless of size and scope. We always have staff and contractors at the ready, and able to take on new projects whether it's something as simple as planting flowers or something more intensive, such as the installation of a stone walkway.
So regardless of your needs and budget, do not hesitate to contact Water Wise Landscape.
What You Can Expect from Water Wise Landscape
Water Wise Landscape has the experience and skill to deliver whatever you need from us. You can go for an outdoor area that looks like a football field or a golf course, or a slice of paradise with colorful flowerbeds. Whatever your mind can conjure, we can construct.
We can handle every leaf, stone, rock, branch, and blade of grass that comes our way and keep your outdoors well coiffed and perfectly manicured. We have skilled landscape artists and top of the line contractors at the ready to meet all of your landscaping designs & hardscaping architecture needs.
Do not hesitate to contact us now. A simple phone call away is enough to set you on the path towards making that ugly lawn look as beautiful and idyllic as a work of art. Pick up the phone and call us at 760-345-7301 now and we will give you a free quote and consultation.
We Can Beat the Palm Springs Landscaping Competition
We understand that there are a number of Palm Springs landscaping professionals operating within the area, but we stand by our promise to be the best choice out of them all. We do our job properly the first time, and will not resort to shortcuts. We only provide excellent results, and we do not give excuses. We want every body's business, and we want that business for years to come so we will not disappoint you.
Water Wise Landscape offers the best and highest quality design, as well as the most cost efficient landscaping projects. We have all the necessary training and manpower to handle any problem that comes our way, as well as have third party partners from the upper echelons of the industry that can help. Everything we do is done according to the highest of standards, and we make every step of the way convenient, pleasant, and enjoyable for the customer.
Aside from providing quality service, Water Wise Landscape also values eco-friendliness. So our landscaping projects are all designed to take into account reduction of water and electricity consumption, and a more sustainable approach that does not result in production of waste. So if you go with Water Wise Landscape, you also do your bit to help mother nature.
If you go with our service, you will find that our landscaping, lawn maintenance, and hardscaping services are some of the best in the industry. If you need any of the services we have outlined above, simply contact us and we will prioritize giving you the help that you need.
SEE OUR GALLERY!
We're Water Wise Landscape
At Water Wise Landscape, we have earned a reputation for providing excellent landscaping services to the Palm Springs and San Diego County in the form of landscape design, outdoor lighting, landscape architecture, drip irrigation, xeriscaping, pool landscaping, and paver installation that current customers have come to rely on. Since our origination in 2007, we strive to provide the highest quality of services to our customers and work to promote eco-friendly and thriving landscapes. Whether you're looking to improve an existing landscape or embark in new construction, Water Wise Landscape has the staff and experience to walk you through all the stages of installation from design to construction to maintenance.
Formerly known as Hort Tech Construction
LEARN MORE
Contact Water Wise Landscape for Arborist, Backyard Landscaping, Desert Landscaping, Drip Irrigation, Driveway Pavers, Horticulture, Landscape, Landscape Architect, Landscape Architecture, Landscape Design, Landscape Lighting, Landscaper, Landscaping, Landscaping Companies, Landscaping Ideas, Outdoor Lighting, Paver Installation, Pavers, Pool Landscaping, Xeriscape, and Xeriscaping.
Proudly supporting the areas of Banning, Carlsbad, Cathedral City, Coachella Valley, Del Mar, Encinitas, Indian Wells, Indio, La Jolla, La Quinta, Oceanside, Palm Desert, Palm Springs, Rancho Mirage, Rancho Santa Fe, San Diego, San Marcos, Temecula , Thousand Palms, and surrounding areas.
CONTACT US TODAY FOR MORE INFORMATION
Contact Water Wise Landscape for Arborist in Palm Springs, Backyard Landscaping in Palm Springs, Desert Landscaping in Palm Springs, Drip Irrigation in Palm Springs, Driveway Pavers in Palm Springs, Horticulture in Palm Springs, Landscape in Palm Springs, Landscape Architect in Palm Springs, Landscape Architecture in Palm Springs, Landscape Design in Palm Springs, Landscape Lighting in Palm Springs, Landscaper in Palm Springs, Landscaping in Palm Springs, Landscaping Companies in Palm Springs, Landscaping Ideas in Palm Springs, Outdoor Lighting in Palm Springs, Paver Installation in Palm Springs, Pavers in Palm Springs, Pool Landscaping in Palm Springs, Xeriscape in Palm Springs, Xeriscaping in Palm Springs, and in surrounding areas.
Below is some general information about Palm Springs:
Palm Springs is a desert resort city in Riverside County, California, within the Coachella Valley. It is located approximately 37 miles (60 kilometres) east of San Bernardino, 111 miles (179 kilometres) east of Los Angeles, 136 miles (219 kilometres) northeast of San Diego, and 269 miles (433 kilometres) west of Phoenix, Arizona. The population was 44,552 at the 2010 census. Golf, swimming, tennis, horseback riding, biking, and hiking in the nearby desert and mountain areas are major forms of recreation in Palm Springs.
The city became a fashionable resort in the 1900s when health tourists arrived with conditions that required dry heat. In 1906 naturalist and travel writer George Wharton James's two volume The Wonders of the Colorado Desert described Palm Springs as having "great charms and attractiveness":278–281 and included an account of his stay at Murray's hotel. As James also described, Palm Springs was more comfortable in its microclimate because the area was covered in the shadow of Mount San Jacinto to the west and in the winter the mountains block cold winds from the San Gorgonio pass. Early illustrious visitors included John Muir and his daughters, U.S. Vice President Charles Fairbanks, and Fanny Stevenson, widow of Robert Louis Stevenson; still, the hotel was closed in 1909 and torn down in 1954.
Similar to the pre-war era, Palm Springs remained popular with the rich and famous of Hollywood, as well as retirees and Canadian tourists. Between 1947 and 1965, the Alexander Construction Company built some 2,200 houses in Palm Springs effectively doubling its housing capacity. As the 1970s drew to a close, increasing numbers of retirees moved to the Coachella Valley. As a result, Palm Springs began to evolve from a virtual ghost town in the summer to a year-round community. Businesses and hotels that used to close for the months of July and August instead remained open all summer. As commerce grew, so too did the number of families with children. The recession of 1973–1975 impacted Palm Springs as many of the wealthy residents had to cut-back on their spending. Later in the 1970s numerous Chicago mobsters invested $50 million in the Palm Springs area, buying houses, land, and businesses. While Palm Springs faced competition from the desert cities to the east in the later 1980s, it has continued to prosper into the 21st century.
Tourism is a major factor in the city's economy with 1.6 million visitors in 2011. The city has over 130 hotels, numerous bed & breakfast inns and over 100 restaurants and dining spots. In the economic recession of the late 2000s/early 2010s, Palm Springs is revitalizing its Downtown or "the Village". Rebuilding started with the demolition of the Bank of America building in January 2012, with the Desert Fashion Plaza scheduled for demolition later in 2012. The movement behind Mid-Century modern architecture (1950s/60s era) in Palm Springs is backed by architecture enthuasists, artistic designers and local historians to preserve many of Central Palm Springs' buildings and houses of famous celebrities, businessmen and politicians.
Palm Springs has a mostly hot, and usually dry climate, with over 300 days of sunshine and around 4.83 inches (122.7 mm) of rain annually. The winter months are warm, with daytime highs often between 73 °F and 86 °F (23–30 °C) and corresponding nighttime lows of 50 °F to 60 °F (10–16 °C) while the coolest days tend to average from 62 °F to 71 °F (17–22 °C), and corresponding nights falling to the mid 40s °F (7–9 °C). The lowest temperature recorded is 19 °F (−7.2 °C), on January 22, 1937. Summer often sees daytime temperatures between 106 °F (41.1 °C) and 112 °F (44.4 °C), with overnight lows ranging from 77 °F (25.0 °C) to 90 °F (32.2 °C). The mean annual temperature is 74.7 °F (23.7 °C). There are 180 days with a high reaching 90 °F (32.2 °C), and 100 °F (37.8 °C) can be seen on 116. The highest temperature on record in Palm Springs is 123 °F (50.6 °C), recorded on several occasions. A low of 105.1 °F (40.6 °C), was recorded on July 13, 1985, one of the highest nighttime lows recorded on earth.
Source: Palm Springs on Wikipedia