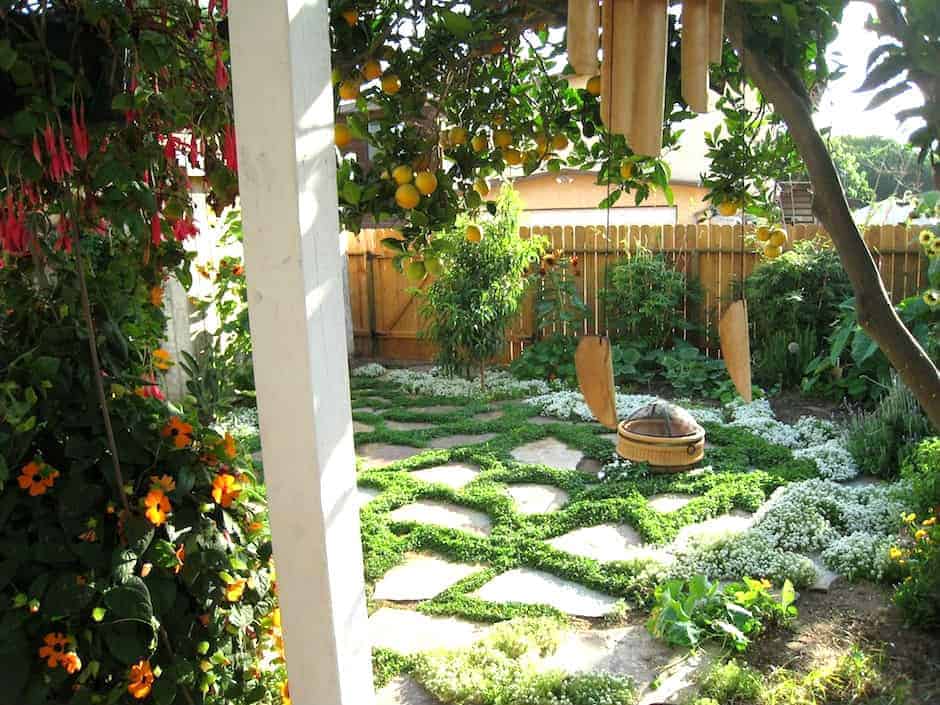 There are five effective ways to completely make over your home's curb appeal. Here in California, buying a dream house for a lot of people is just a pipe dream. Most of us are just lucky enough to buy a simple home that we can grow to love. But the curb appeal is usually lacking. So I'm going to show you the five ways to completely make over the front of the house to really make it pop and stop having the neighbors make you look so bad. And you don't even need to spend much or buy anything other than the common hardscape materials.
Let's start with the hard stuff. Hard scraping and edging years of root growth and movement had completely demolished all the edging around most planters and trees. It really makes a yard just look disheveled. So it is time to rip them out and start fresh. Many edging stones are actually in really great condition, but dirty and uneven. So the most budget friendly way you can do this is just to pull them out, give them a good cleaning and put them back in nice and level.
Lay out all the stones on the driveway and just give them a good pressure wash on both sides. And it's actually quite incredible how clean they will come out. They practically look like new and can establish a perimeter for your edging. Use some string and marking spray paint to paint perfect circles around each tree. This will tell you where all the etchings don't need to go back in. You're on the right side of the driveway, the plan is to put in a whole new flower bed.
You want to perfectly match the one leading up to the front entry. So you need to measure it out. Transfer those measurements over to the ground using some more of that marking spraypaint. There's no straight edge that's quite long enough for the side of the house, so just eyeball it with some string and then run over that with the spray paint to give a good line to work from for the curve.
The whole flower bed is going to be lined with etching stones, so you just need to dig out a little bit and get rid of all the grass so we have a nice clean surface to work with. Playing these edging stones is a simple but long process. The real key is to make sure you have a nice flat surface, you're laying them on and a rubber mallet comes in handy to convince them to go in the right place.
Just repeat the same process around all the trees and planters, and it may take a while, but it looks really great and yet ended up putting a second layer everywhere, which really jumps out from the street and allows me to put in way more mulch, which will look really nice. My second tip is going to be pressure washing, even if you don't think your house needs to be pressure washed, it does. Trust me. I'm lucky enough to have vinyl siding, so a pressure washer cleans it right up, but where the real transformation comes is in the concrete.
The sidewalk don't even need to look dirty, but look how much is coming off of it. Pressure washer is one of those big bang for your buck tools, you can rent one from your local home store for less than 50 bucks and it can make a world of difference on your curb appeal. I spent just a couple hours out here with it and look at all this gunk that came up. Pressure washing is worth all the time and money. Tip three, pruning overgrown trees and shrubs are just an eyesore, but they're such an easy fix and make a big difference on your computer.
A tree in your yard needsa prune in the worst way. It drops berries that grow seedlings all over the place. So we're going at it with the Sauza and cleaning it up once and for all. So much better. My big tree just needed its yearly trim so you could actually see the front of the house from the street. I think that's helpful with curb appeal. My front shrubs just needed a little bit of a haircut to give them some shape.
Tip for weed control: if the weeds are out of control and the mulch hadn't been replaced in years, that needs to get fixed pronto. The first step is to rip out all the old weed control and dig out all this grass mulch. You have to start fresh. It's easiest to break all the old mulch and debris into a pile and then use a quick big bucket dustpan to scoop it all up in areas around the mailbox post where we didn't put in concrete edgers. Use no dig edging to contain the mulch.
It's super easy to install and it keeps your mulch separated from the grass, which makes mowing way easier. Around all the trees in the flower beds were plan to put mulch, I made sure to put a fabric neat block down. First, cut this oversized and staked it down with metal yard stakes to keep it in place. Then go back and trim off any of the excess that won't be covered by the mulch with some scissors. Use the same tactic in these long flower beds, just cut around the utility lines to make sure you get full coverage.
In the harsh California winters, the last mulch will blow away and brake down a lot.
To help ensure that it will last a little longer, put a nice thick layer. So it will hold up over time. Something just doesn't seem right about a bunch of organic material coming in plastic bags. Final tip, plants and lighting, why someone would ever plant an ugly thing is a mystery. It even has thorns. Well, it has to go. With that monstrosity dealt with, we're going to plant a couple of hydrangea bushes here on the front of the house, which will really soften up the landscape in.
When you pick these plants up from the nursery, they will suggest to mix the existing soil with some topsoil in order to give them the best chance of success. The final touch is going to be some landscape lighting because we want the house to look as good at night as it does during the day.
And there you have it, five tips that completely changes the curb appeal of a house. You'll spend about three hundred dollars on everything, which for landscaping is nothing. If you need more professional (and affordable) help, contact Water Wise Landscape and get a free estimate.