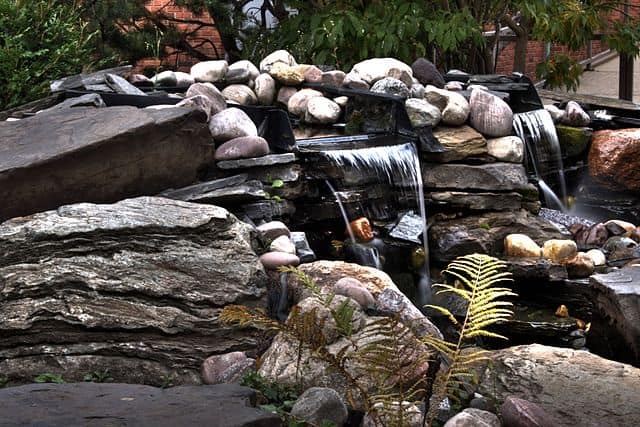 Water feature landscaping is not exactly the first thing that will come to mind if you think of properties in Indio, California. The city is known as a desert city with a perpetually warm climate, and water is not exactly in abundance.  But that does not mean you can't have some water features in your landscape. You can still do it. All you need is a little bit of creativity, and a few simple tips:
A Dry Well is Not Useless as a Water Feature Landscaping Element
Technically, a deep well would be extremely useful in Indio, but as a water feature landscaping element, its main purpose would be as a decorative feature. In which case water isn't really required. Somoe properties that go for old-fashioned appeal could use a wishing well in the yard, particularly those that are going for a Tudor or Early American landscape design.
Fountains are Not Wasteful
A water fountain is a great water feature landscaping element, and can complement many landscaping designs. But a lot of property owners in Indio tend to avoid them out of the misguided notion that it wastes water. The truth is if you get a professional landscaper like Water Wise Landscape to do it, fountains are actually very sustainable and will not guzzle water. It can be designed to recycle water, using the ones coming from a pool or a drip irrigation, before feeding it back to the fountain head or inlet where it is used again and again. Water fountains can also provide a very useful function in an Indio property – the fountain fills the air with moisture, which brings relief to the people in the house, as well as nearby plants.
Bird Bath Works as an Alternative
If a water fountain is too much trouble, a landscape can use a bird bath to add water features instead. There are elaborate bird bath designs, but the most common ones are simple enough that their addition won't break the budget too much. The provide a number of simple benefits:
The moisture from the bird bath can help cool off the surroundings
The bath will attract birds, which help improve the looks of your landscape (and their chirps can be soothing)
They add a lot of character to a landscaper
A Waterfall Can Be Pondless
One of the most sought after water feature landscaping element is a backyard waterfall. Unfortunately, it is also the most fiddly to install, especially in Indio where water is not exactly in abundance. And there's also space constraints to consider. You need space for the waterfall itself, and the pond as well.  Fortunately, there are ways to mitigate this inherent difficulty – chief among them is the fact that a waterfall does not really need to have an actual pond. Instead of using the pond as a source of water to be circulated, the whole is just dug deeper than a standard small pond, then lined with rock and gravel before being filled with water. The water is then circulated from under the rocks and gravel using a pump installed at the bottom.
Get a Professional Water Feature Landscaping Provider
As much fun as the DIY approach is, when it comes to water features in Indio, you stand a better chance of doing everything right without going overbudget by hiring Water Wise Landscape. We have been in the business of landscaping and contracting for decades now, and we are experienced at designing and constructing landscapes that conform to a client's vision and budget. Contact us now and we will give you a FREE quote.