Expert Rancho Santa Fe Landscaping Company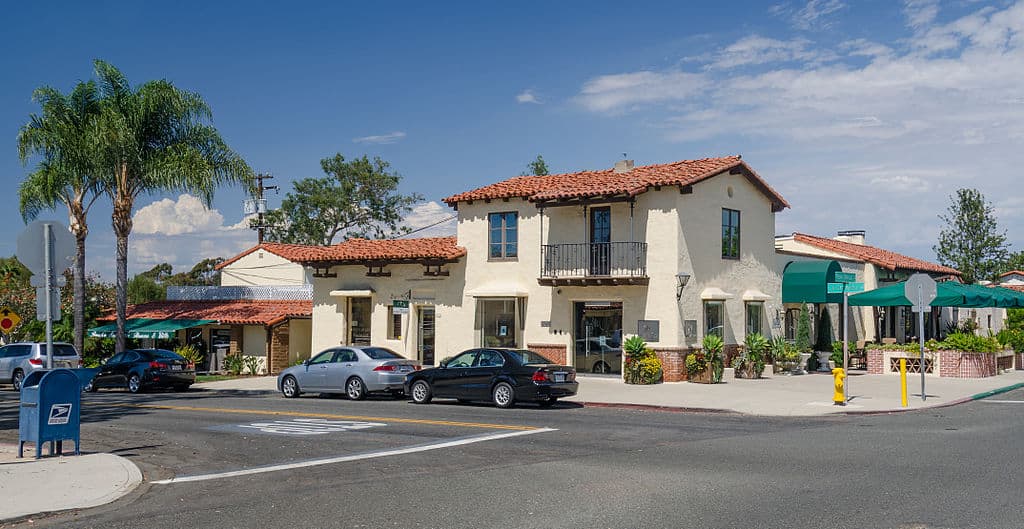 Water Wise Landscape caters to residents looking for Rancho Santa Fe landscaping services. We have years of experience with everything from planting to hardscaping. We specialize in providing timely and efficient landscaping services to homes and businesses from within the Rancho Santa Fe and San Diego County areas.
We also strive to provide Rancho Santa Fe landscaping customers with the most beautiful, eco-friendly, and thriving landscapes. We are always looking to lend our expertise and skills to people, whether they are just looking for improvements to an existing landscape or ready to take the plunge into the new construction of their dream landscape. Water Wise Landscape and our staff will be on hand to walk clients throughout the various phases of installation – from the design to construction, and even maintenance.
The Services We Provide Include:
Paving & Paver Installation

Hardscape

Landscape Design, Installation, and Maintenance

Stone Walkways

Retaining Walls (Stone and Wood)

Grading and Site Prep

Dry River Beds, Ponds, and Water Features

Fireplaces and Fire Pits

Drainage and Irrigation Systems

Sod and Seeding

Planting and Mulching

Brush Clearing and Weed Control

Waterproofing

Erosion Control

Outdoor Lighting

Landscape Design

Pool Landscaping

Xeriscaping

Landscape Architecture

Drip Irrigation
GET A FREE QUOTE!
Water Wise Landscape is the go-to name in the Rancho Santa Fe landscaping and San Diego County areas when it comes to world-class landscaping services. We have a reputation for being the best in our chosen field, and we take pride in our client-focused approach to providing landscaping services.
We aim to give your property the most stunning, architecturally sound landscape in the neighborhood. But our commitment does not end with the construction. We understand that many property owners rarely have the time needed to construct and maintain a landscape. If you find yourself in a similar situation, we are here to help. We will help bring life, color, and style to your property and if needed, will be on hand to provide guidance and training with regard to maintenance so that you can enjoy your beautiful outdoor space for years to come.
There are many Rancho Santa Fe landscaping services out there but Water Wise Landscape stands out because we stand behind our work, and we employ only the most experienced and most skilled landscaping contractors in the industry. We keep ourselves abreast of current advancements in the landscaping sector, which ensures that the properties we handle will only get the most innovative techniques, materials, and landscaping available in the market.
Water Wise Landscape takes into account that there's more to landscaping than simply improving the aesthetics of a property. We understand that a good outdoor area will do wonders in improving the value of a property, whether it's residential or a business establishment. We also take into account the more utilitarian aspects of landscaping – we design landscapes that will help improve the temperature during seasonal extremes. This is particularly important in the San Diego region, where the climate is arid and particularly warm throughout the year. We are able to use landscaping methods that both preserve the beauty of nature, while enhancing the living conditions in your outdoor living space.
SEE OUR GALLERY!
Finally, we understand that a landscape is a big investment and that people have different needs and budgets. So we are always willing to meet clients halfway and customize our services to fit their financial capabilities. Call us today and ask for a quote, and we will do our best to provide you with the landscaping service that meets your needs and capabilities, while still giving you the beautiful landscape that neighbors will envy.
The Best Commercial and Residential Rancho Santa Fe Landscaping Services
There are many Rancho Santa Fe landscaping companies out here, and it is very easy to choose the wrong one so you need to ensure that the contractors you hire are the best choice. Water Wise Landscape stands behind our work and our staff. We select only the best and most skilled landscaping contractors, and take pride in ensuring that your property maintains its value and its beauty.
We understand that properties rely on visual appeal, and that greeneries and flowerbeds help a great deal in encouraging people to come and visit. Water Wise Landscape, both the people who make up the company and the company itself, has years of experience delivering top-notch service to people within Rancho Santa Fe and San Diego areas. We have crafted stunning landscapes for churches, apartment complexes, schools, offices, and even residential homes.
We can accommodate clients who know what they want, as well as clients who have no idea where to begin. Our landscaping contractors are capable of providing various levels of assistance depending on the needs of the client. We can create stunning landscapes that meet your suggestions, and we can also bring designs to life exactly as you imagined them.
Water Wise Landscape provides gardening services as part of our package. This includes weed control, sodding, planting, and regular garden care if needed. We are the perfect choice if you have plans to host an outdoors special event such as a garden wedding or a party. Just show us where the landscape is needed, and we'll make your amazing outdoors a veritable oasis full of plants, flowers, and if needed – even a beautiful gazebo.
We will help keep your property visually appealing all year round. Our hardworking Rancho Santa Fe landscaper crew will do everything from weed control to brush clearing in order to prevent your beautiful landscape project from looking worse due to time and neglect. We can also provide training in order to help you identify and clarify all the factors involved in making the landscape looking good and well maintained all year-round. Your property is an investment and you will find it money well spent when it continually makes a good impression on visitors.
Water Wise Landscape is the most renowned company in the Rancho Santa Fe area when it comes to Rancho Santa Fe landscape services. We are perfectly aware that not all outdoor spaces look beautiful from the get-go. Most of them require experienced and skilled landscape artists in order to truly come alive. We stand by our ability to provide this service.
Rancho Santa Fe landscaping also provides benefits outside for making an outdoor space look appealing. In some cases, a properly maintained landscape can even save you on costs that would normally go towards cleaning, repairs, and wasted energy costs on cooling and/or heating. Our landscaping contractors have a keen mind that also takes practicality into account. Our landscape projects are energy and cost-efficient, and we provide all the features that help make your life more convenient. We take great pains to ensure that your outdoor space will be a great asset to your home or business.
Landscaping is a great way to revitalize property that has been neglected. Proper landscaping can stabilize sloped surfaces and make land usable again. By turning an eroding hill into terraces, the formerly unsightly and unusable space becomes a visuall arresting property. This applies to both businesses and home properties, as the installation of new landscaping can significantly improve the look and become the first line of defense against erosion and degradation.
We make sure that our projects embody great design, but it is not our sole priority. Our landscaping projects also help protect against soil erosion. This means properties that we handle are made safer, and can be repurposed as usable spaces for a kid's play area, a grassy hangout, or a patio.
Different places have different levels of complexity, but we have experience dealing will all manner of landscapes, whether it's a simple grass area that needs paving or a complex overgrown property with trees and rock formations that need to be built around. We also handle cases that require proper drainage, or ones that already have an existing landscaping installation but need upgrades to be compliant with modern safety standards.
Water Wise Landscape's crew of experienced landscape contractors can provide regular landscaping maintenance according to your preferred schedule – whether it's monthly, weekly, or yearly. This service covers everything from repairs, checkups, and even installation of large components such as an irrigation system. Our main goal is to provide the best care and maintenance for your landscape, with particular attention given to plant care and weed control.
All of these services are structured around an excellent customer support framework manned by staff that are quick, knowledgeable, and easy to talk to. No customer will be left wanting for support and we consider all questions and concerns worthy of our attention, no matter how small or seemingly inconsequential.
Clients will not have anything to worry about because we are bonded, licensed, and insured to protect any project we do for you. We prioritize the customer's safety and security when dealing with our staff and contractors. If you are in the San Diego area and in need of a landscape contractor, do not hesitate to contact us.
GET A FREE QUOTE!
One of our specialties is rock walls. We are able to construct rock walls that interlock seamlessly in order to provide optimal drainage and stability. Our contractors are experts in all manner of rock wall construction, and can produce unique, creative-looking designs that provide the best of both worlds – the best functionality and aesthetics without sacrificing one for the other.
At Water Wise Landscape, we strive towards perfection and it is this same drive that led to our company's longevity. We are one of the more renowned landscaping outfits and our reputation is backed by competence, skill, and a willingness to always put the customer first. Our goal for every landscape project is to make everything seamless from conception to completion.
We always work towards meeting a customer's expectations, and take great pains to protect our credibility in the eyes of existing and potential customers. This is done with excellent communication and unparalleled workrate.
Over the years, we have grown large enough that we are now able to take on different projects regardless of size and scope. We always have staff and contractors at the ready, and able to take on new projects whether it's something as simple as planting flowers or something more intensive, such as the installation of a stone walkway.
So regardless of your needs and budget, do not hesitate to contact Water Wise Landscape.
What You Can Expect from Water Wise Landscape
Water Wise Landscape has the experience and skill to deliver whatever you need from us. You can go for an outdoor area that looks like a football field or a golf course, or a slice of paradise with colorful flowerbeds. Whatever your mind can conjure, we can construct.
We can handle every leaf, stone, rock, branch, and blade of grass that comes our way and keep your outdoors well coiffed and perfectly manicured. We have skilled landscape artists and top of the line contractors at the ready to meet all of your landscaping designs & hardscaping architecture needs.
Do not hesitate to contact us now. A simple phone call away is enough to set you on the path towards making that ugly lawn look as beautiful and idyllic as a work of art. Pick up the phone and call us at 760-345-7301 now and we will give you a free quote and consultation.
We Can Beat the Rancho Santa Fe Landscaping Competition
We understand that there are a number of Rancho Santa Fe landscaping professionals operating within the area, but we stand by our promise to be the best choice out of them all. We do our job properly the first time, and will not resort to shortcuts. We only provide excellent results, and we do not give excuses. We want every body's business, and we want that business for years to come so we will not disappoint you.
Water Wise Landscape offers the best and highest quality design, as well as the most cost efficient landscaping projects. We have all the necessary training and manpower to handle any problem that comes our way, as well as have third party partners from the upper echelons of the industry that can help. Everything we do is done according to the highest of standards, and we make every step of the way convenient, pleasant, and enjoyable for the customer.
Aside from providing quality service, Water Wise Landscape also values eco-friendliness. So our landscaping projects are all designed to take into account reduction of water and electricity consumption, and a more sustainable approach that does not result in production of waste. So if you go with Water Wise Landscape, you also do your bit to help mother nature.
If you go with our service, you will find that our landscaping, lawn maintenance, and hardscaping services are some of the best in the industry. If you need any of the services we have outlined above, simply contact us and we will prioritize giving you the help that you need.
SEE OUR GALLERY!
We're Water Wise Landscape
At Water Wise Landscape, we have earned a reputation for providing excellent landscaping services to the Rancho Santa Fe and San Diego County in the form of landscape design, outdoor lighting, landscape architecture, drip irrigation, xeriscaping, pool landscaping, and paver installation that current customers have come to rely on. Since our origination in 2007, we strive to provide the highest quality of services to our customers and work to promote eco-friendly and thriving landscapes. Whether you're looking to improve an existing landscape or embark in new construction, Water Wise Landscape has the staff and experience to walk you through all the stages of installation from design to construction to maintenance.
Formerly known as Hort Tech Construction
LEARN MORE
Contact Water Wise Landscape for Arborist, Backyard Landscaping, Desert Landscaping, Drip Irrigation, Driveway Pavers, Horticulture, Landscape, Landscape Architect, Landscape Architecture, Landscape Design, Landscape Lighting, Landscaper, Landscaping, Landscaping Companies, Landscaping Ideas, Outdoor Lighting, Paver Installation, Pavers, Pool Landscaping, Xeriscape, and Xeriscaping.
Proudly supporting the areas of Banning, Carlsbad, Cathedral City, Coachella Valley, Del Mar, Encinitas, Indian Wells, Indio, La Jolla, La Quinta, Oceanside, Palm Desert, Palm Springs, Rancho Mirage, Rancho Santa Fe, San Diego, San Marcos, Temecula , Thousand Palms, and surrounding areas.
CONTACT US TODAY FOR MORE INFORMATION
Contact Water Wise Landscape for Arborist in Rancho Santa Fe, Backyard Landscaping in Rancho Santa Fe, Desert Landscaping in Rancho Santa Fe, Drip Irrigation in Rancho Santa Fe, Driveway Pavers in Rancho Santa Fe, Horticulture in Rancho Santa Fe, Landscape in Rancho Santa Fe, Landscape Architect in Rancho Santa Fe, Landscape Architecture in Rancho Santa Fe, Landscape Design in Rancho Santa Fe, Landscape Lighting in Rancho Santa Fe, Landscaper in Rancho Santa Fe, Landscaping in Rancho Santa Fe, Landscaping Companies in Rancho Santa Fe, Landscaping Ideas in Rancho Santa Fe, Outdoor Lighting in Rancho Santa Fe, Paver Installation in Rancho Santa Fe, Pavers in Rancho Santa Fe, Pool Landscaping in Rancho Santa Fe, Xeriscape in Rancho Santa Fe, Xeriscaping in Rancho Santa Fe, and in surrounding areas.
Below is some general information about Rancho Santa Fe:
Rancho Santa Fe known locally as The Ranch, is a census-designated place in San Diego County, California, United States, within the San Diego metropolitan area. With an estimated median income of $188,859, it is on the list of highest income communities in the United States with a population of at least 1,000. The population was 3,117 at the 2010 census, down from 3,252 at the 2000 census. The CDP is primarily residential with a few shopping blocks, a middle and elementary school, several restaurants and single family residential areas situated on primarily 1-3 acre parcels.
In 2011, Forbes reported Rancho Santa Fe as having the fourteenth most expensive ZIP code in the United States, and fourth most expensive in California, with a 2011 median home sale price of $2,585,000. Some homes in ZIP code 92067 but not within the CDP are valued at more than the median home-value within the Master Planned Community that makes up the official CDP, and many people who live within the 92067 ZIP code cite their community as Rancho Santa Fe even though they do not live within the strict boundaries of the Master Planned Community known as The Covenant of Rancho Santa Fe. In 2012, CNN Money / OnBoard LLC reported Rancho Santa Fe, with 96%, rated number one in the US ZIP code list of neighborhoods with the highest percentage of million-dollar homes.
In 1906, the Santa Fe Railway initiated a project of growing eucalyptus trees for railroad timber at the Rancho San Dieguito which constitutes present-day Rancho Santa Fe. At that time about 93% of the property was under one ownership, but the balance of the acreage was vested in a number of separate owners. In August 1906, the Atchison Topeka and Santa Fe Railway Company acquired the several tracts, taking title in its affiiliate, the so-called Santa Fe Land Improvement Company. Additional small parcels were added including the original properties owned by the Mexican settlers of the area, the Osuna family who had been recipients of a Mexican Land Grant under Mexican rule of California called Rancho San Dieguito. A survey in 1922 showed that the new land Company owned 8,796.23 acres. Officials of the Santa Fe Railway needed satisfactory material for railroad ties, and since the Rancho San Dieguito could be supplied with sufficient water from wells and the nearby river, Eucalyptus seedlings were imported from Australia and planting began in January 1907. While the Company planted about 3,000 acres, the experiment proved a failure.
A drought in 1912, followed by a severe frost in 1914, killed about 60% of the remaining trees and all seedlings. Experiments with redwood and other materials at other locations brought abandonment of the project in 1915, and eucalyptus planting was discontinued on Rancho San Dieguito. While the experiment proved the eucalyptus lumber too hard for railway ties, the eucalyptus and additional planting of other non-native trees and shrubbery were seen as an enhancement to the environment of Rancho Santa Fe until the disastrous California wildfires of September and October 2008. The community's adherence to maintaining the Red Gum Eucapyltus species is enforced through deed restictions on every homeowner within the Covenant area of Rancho Santa Fe by the Rancho Santa Fe Protective Covenant Association. Since the fire, many in the community believe that the Association is not representative of the homeowners' best interests due the ever-present and increasing fire danger the diseased and dying eucalyptus trees constitute. The problem began in 1989 with the infestation of an insect native to Australian eucalyptus forests leading to the immediate and irreversible decline of the Red Gum Eucalyptus forest of Rancho Santa Fe. The red gum lerp psyllid was first found in Los Angeles in 1998 and then spread throughout much of California rapidly. This Australian insect now also occurs in Arizona, Florida, Hawaii, and Mexico on a variety of eucalyptus species. Despite optimistic assertions of hired arborists and the Forest Health Task Force, the forest continues to decline while the unelected Rancho Santa Fe Protective Covenent Association perpetuates its maintenance of the status quo by replanting burned areas with the Red Gum Eucalyptus instead of adopting a more prudent policy of returning the failed experiment of Rancho Santa Fe to a more natural environment through the planting of California native tree species such as Coastal Live Oak and Torrey Pine.
From 1923-1929 large parcels of land were sold for citrus and avocado groves. Homes were constructed, many on hilltops with fabulous views of the mountains, ocean and valleys. Although building and landscaping requirements were a part of the purchase contract in the early years, Charles Cheney, a noted city planner, suggested that the residents of the area form a mutual organization for the administration of the community. In 1927 a non-profit association was formed called the Rancho Santa Fe Association. The Rancho Santa Fe Association adopted a Protective Covenant to insure the preservation, maintenance, development, and improvement of property in accordance with the wishes of property owners and in conformance with the general community plan. And as a result of this historic part of Rancho Santa Fe became known as The Covenant of Rancho Santa Fe, or simply, The Covenant. Today The Covenant of Rancho Santa Fe has become the home of country estates and was declared the wealthiest community in the nation in the 2000 census. The Rancho Santa Fe Association is still pursuing the dreams and goals of its far-sighted developers. This pleasant oasis covers approximately 6,200 acres with approximately 1,700 households just four to six miles inland from the Pacific Ocean. Beautiful residences on lots averaging two acres or more are set back from the picturesque roadways which wind around the town. The Covenant of Rancho Santa Fe is governed by the Rancho Santa Fe Association which also oversees the RSF golf club, a 6800 yard, par 72, 18 hole course, and RSF tennis facility. The Covenant of Rancho Santa Fe also enjoys a riding club, garden club, community center, art guild, library guild, book club, and 50 miles of horse trails which weave throughout the rolling hills of this community.
Source: Rancho Santa Fe on Wikipedia