First Class La Jolla Landscaping Provider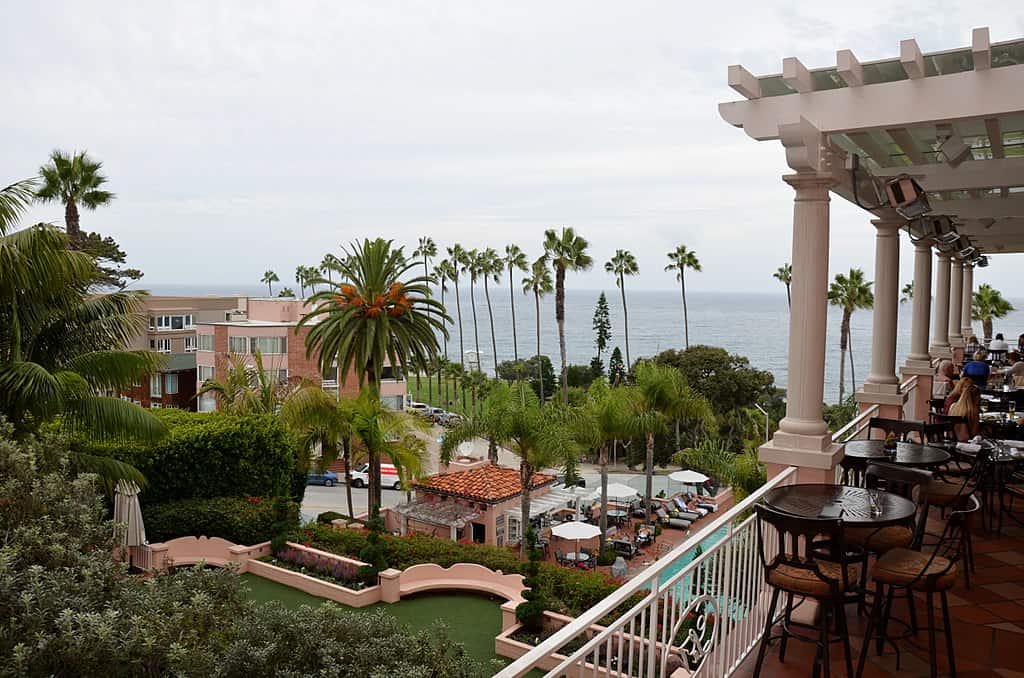 Water Wise Landscape caters to residents looking for La Jolla landscaping services. We have years of experience with everything from planting to hardscaping. We specialize in providing timely and efficient landscaping services to homes and businesses from within the La Jolla and San Diego County areas.
We also strive to provide La Jolla landscaping customers with the most beautiful, eco-friendly, and thriving landscapes. We are always looking to lend our expertise and skills to people, whether they are just looking for improvements to an existing landscape or ready to take the plunge into the new construction of their dream landscape. Water Wise Landscape and our staff will be on hand to walk clients throughout the various phases of installation – from the design to construction, and even maintenance.
The Services We Provide Include:
Paving & Paver Installation

Hardscape

Landscape Design, Installation, and Maintenance

Stone Walkways

Retaining Walls (Stone and Wood)

Grading and Site Prep

Dry River Beds, Ponds, and Water Features

Fireplaces and Fire Pits

Drainage and Irrigation Systems

Sod and Seeding

Planting and Mulching

Brush Clearing and Weed Control

Waterproofing

Erosion Control

Outdoor Lighting

Landscape Design

Pool Landscaping

Xeriscaping

Landscape Architecture

Drip Irrigation
GET A FREE QUOTE!
Water Wise Landscape is the go-to name in the La Jolla landscaping and San Diego County areas when it comes to world-class landscaping services. We have a reputation for being the best in our chosen field, and we take pride in our client-focused approach to providing landscaping services.
We aim to give your property the most stunning, architecturally sound landscape in the neighborhood. But our commitment does not end with the construction. We understand that many property owners rarely have the time needed to construct and maintain a landscape. If you find yourself in a similar situation, we are here to help. We will help bring life, color, and style to your property and if needed, will be on hand to provide guidance and training with regard to maintenance so that you can enjoy your beautiful outdoor space for years to come.
There are many La Jolla landscaping services out there but Water Wise Landscape stands out because we stand behind our work, and we employ only the most experienced and most skilled landscaping contractors in the industry. We keep ourselves abreast of current advancements in the landscaping sector, which ensures that the properties we handle will only get the most innovative techniques, materials, and landscaping available in the market.
Water Wise Landscape takes into account that there's more to landscaping than simply improving the aesthetics of a property. We understand that a good outdoor area will do wonders in improving the value of a property, whether it's residential or a business establishment. We also take into account the more utilitarian aspects of landscaping – we design landscapes that will help improve the temperature during seasonal extremes. This is particularly important in the San Diego region, where the climate is arid and particularly warm throughout the year. We are able to use landscaping methods that both preserve the beauty of nature, while enhancing the living conditions in your outdoor living space.
SEE OUR GALLERY!
Finally, we understand that a landscape is a big investment and that people have different needs and budgets. So we are always willing to meet clients halfway and customize our services to fit their financial capabilities. Call us today and ask for a quote, and we will do our best to provide you with the landscaping service that meets your needs and capabilities, while still giving you the beautiful landscape that neighbors will envy.
The Best Commercial and Residential La Jolla Landscaping Services
There are many La Jolla landscaping companies out here, and it is very easy to choose the wrong one so you need to ensure that the contractors you hire are the best choice. Water Wise Landscape stands behind our work and our staff. We select only the best and most skilled landscaping contractors, and take pride in ensuring that your property maintains its value and its beauty.
We understand that properties rely on visual appeal, and that greeneries and flowerbeds help a great deal in encouraging people to come and visit. Water Wise Landscape, both the people who make up the company and the company itself, has years of experience delivering top-notch service to people within La Jolla and San Diego areas. We have crafted stunning landscapes for churches, apartment complexes, schools, offices, and even residential homes.
We can accommodate clients who know what they want, as well as clients who have no idea where to begin. Our landscaping contractors are capable of providing various levels of assistance depending on the needs of the client. We can create stunning landscapes that meet your suggestions, and we can also bring designs to life exactly as you imagined them.
Water Wise Landscape provides gardening services as part of our package. This includes weed control, sodding, planting, and regular garden care if needed. We are the perfect choice if you have plans to host an outdoors special event such as a garden wedding or a party. Just show us where the landscape is needed, and we'll make your amazing outdoors a veritable oasis full of plants, flowers, and if needed – even a beautiful gazebo.
We will help keep your property visually appealing all year round. Our hardworking La Jolla landscaper crew will do everything from weed control to brush clearing in order to prevent your beautiful landscape project from looking worse due to time and neglect. We can also provide training in order to help you identify and clarify all the factors involved in making the landscape looking good and well maintained all year-round. Your property is an investment and you will find it money well spent when it continually makes a good impression on visitors.
Water Wise Landscape is the most renowned company in the La Jolla area when it comes to La Jolla landscape services. We are perfectly aware that not all outdoor spaces look beautiful from the get-go. Most of them require experienced and skilled landscape artists in order to truly come alive. We stand by our ability to provide this service.
La Jolla landscaping also provides benefits outside for making an outdoor space look appealing. In some cases, a properly maintained landscape can even save you on costs that would normally go towards cleaning, repairs, and wasted energy costs on cooling and/or heating. Our landscaping contractors have a keen mind that also takes practicality into account. Our landscape projects are energy and cost-efficient, and we provide all the features that help make your life more convenient. We take great pains to ensure that your outdoor space will be a great asset to your home or business.
Landscaping is a great way to revitalize property that has been neglected. Proper landscaping can stabilize sloped surfaces and make land usable again. By turning an eroding hill into terraces, the formerly unsightly and unusable space becomes a visuall arresting property. This applies to both businesses and home properties, as the installation of new landscaping can significantly improve the look and become the first line of defense against erosion and degradation.
We make sure that our projects embody great design, but it is not our sole priority. Our landscaping projects also help protect against soil erosion. This means properties that we handle are made safer, and can be repurposed as usable spaces for a kid's play area, a grassy hangout, or a patio.
Different places have different levels of complexity, but we have experience dealing will all manner of landscapes, whether it's a simple grass area that needs paving or a complex overgrown property with trees and rock formations that need to be built around. We also handle cases that require proper drainage, or ones that already have an existing landscaping installation but need upgrades to be compliant with modern safety standards.
Water Wise Landscape's crew of experienced landscape contractors can provide regular landscaping maintenance according to your preferred schedule – whether it's monthly, weekly, or yearly. This service covers everything from repairs, checkups, and even installation of large components such as an irrigation system. Our main goal is to provide the best care and maintenance for your landscape, with particular attention given to plant care and weed control.
All of these services are structured around an excellent customer support framework manned by staff that are quick, knowledgeable, and easy to talk to. No customer will be left wanting for support and we consider all questions and concerns worthy of our attention, no matter how small or seemingly inconsequential.
Clients will not have anything to worry about because we are bonded, licensed, and insured to protect any project we do for you. We prioritize the customer's safety and security when dealing with our staff and contractors. If you are in the San Diego area and in need of a landscape contractor, do not hesitate to contact us.
GET A FREE QUOTE!
One of our specialties is rock walls. We are able to construct rock walls that interlock seamlessly in order to provide optimal drainage and stability. Our contractors are experts in all manner of rock wall construction, and can produce unique, creative-looking designs that provide the best of both worlds – the best functionality and aesthetics without sacrificing one for the other.
At Water Wise Landscape, we strive towards perfection and it is this same drive that led to our company's longevity. We are one of the more renowned landscaping outfits and our reputation is backed by competence, skill, and a willingness to always put the customer first. Our goal for every landscape project is to make everything seamless from conception to completion.
We always work towards meeting a customer's expectations, and take great pains to protect our credibility in the eyes of existing and potential customers. This is done with excellent communication and unparalleled workrate.
Over the years, we have grown large enough that we are now able to take on different projects regardless of size and scope. We always have staff and contractors at the ready, and able to take on new projects whether it's something as simple as planting flowers or something more intensive, such as the installation of a stone walkway.
So regardless of your needs and budget, do not hesitate to contact Water Wise Landscape.
What You Can Expect from Water Wise Landscape
Water Wise Landscape has the experience and skill to deliver whatever you need from us. You can go for an outdoor area that looks like a football field or a golf course, or a slice of paradise with colorful flowerbeds. Whatever your mind can conjure, we can construct.
We can handle every leaf, stone, rock, branch, and blade of grass that comes our way and keep your outdoors well coiffed and perfectly manicured. We have skilled landscape artists and top of the line contractors at the ready to meet all of your landscaping designs & hardscaping architecture needs.
Do not hesitate to contact us now. A simple phone call away is enough to set you on the path towards making that ugly lawn look as beautiful and idyllic as a work of art. Pick up the phone and call us at 760-345-7301 now and we will give you a free quote and consultation.
We Can Beat the La Jolla Landscaping Competition
We understand that there are a number of La Jolla landscaping professionals operating within the area, but we stand by our promise to be the best choice out of them all. We do our job properly the first time, and will not resort to shortcuts. We only provide excellent results, and we do not give excuses. We want every body's business, and we want that business for years to come so we will not disappoint you.
Water Wise Landscape offers the best and highest quality design, as well as the most cost efficient landscaping projects. We have all the necessary training and manpower to handle any problem that comes our way, as well as have third party partners from the upper echelons of the industry that can help. Everything we do is done according to the highest of standards, and we make every step of the way convenient, pleasant, and enjoyable for the customer.
Aside from providing quality service, Water Wise Landscape also values eco-friendliness. So our landscaping projects are all designed to take into account reduction of water and electricity consumption, and a more sustainable approach that does not result in production of waste. So if you go with Water Wise Landscape, you also do your bit to help mother nature.
If you go with our service, you will find that our landscaping, lawn maintenance, and hardscaping services are some of the best in the industry. If you need any of the services we have outlined above, simply contact us and we will prioritize giving you the help that you need.
SEE OUR GALLERY!
We're Water Wise Landscape
At Water Wise Landscape, we have earned a reputation for providing excellent landscaping services to the La Jolla and San Diego County in the form of landscape design, outdoor lighting, landscape architecture, drip irrigation, xeriscaping, pool landscaping, and paver installation that current customers have come to rely on. Since our origination in 2007, we strive to provide the highest quality of services to our customers and work to promote eco-friendly and thriving landscapes. Whether you're looking to improve an existing landscape or embark in new construction, Water Wise Landscape has the staff and experience to walk you through all the stages of installation from design to construction to maintenance.
Formerly known as Hort Tech Construction
LEARN MORE
Contact Water Wise Landscape for Arborist, Backyard Landscaping, Desert Landscaping, Drip Irrigation, Driveway Pavers, Horticulture, Landscape, Landscape Architect, Landscape Architecture, Landscape Design, Landscape Lighting, Landscaper, Landscaping, Landscaping Companies, Landscaping Ideas, Outdoor Lighting, Paver Installation, Pavers, Pool Landscaping, Xeriscape, and Xeriscaping.
Proudly supporting the areas of Banning, Carlsbad, Cathedral City, Coachella Valley, Del Mar, Encinitas, Indian Wells, Indio, La Jolla, La Quinta, Oceanside, Palm Desert, Palm Springs, Rancho Mirage, Rancho Santa Fe, San Diego, San Marcos, Temecula , Thousand Palms, and surrounding areas.
CONTACT US TODAY FOR MORE INFORMATION
Contact Water Wise Landscape for Arborist in La Jolla, Backyard Landscaping in La Jolla, Desert Landscaping in La Jolla, Drip Irrigation in La Jolla, Driveway Pavers in La Jolla, Horticulture in La Jolla, Landscape in La Jolla, Landscape Architect in La Jolla, Landscape Architecture in La Jolla, Landscape Design in La Jolla, Landscape Lighting in La Jolla, Landscaper in La Jolla, Landscaping in La Jolla, Landscaping Companies in La Jolla, Landscaping Ideas in La Jolla, Outdoor Lighting in La Jolla, Paver Installation in La Jolla, Pavers in La Jolla, Pool Landscaping in La Jolla, Xeriscape in La Jolla, Xeriscaping in La Jolla, and in surrounding areas.
Below is some general information about La Jolla:
La Jolla is an affluent neighborhood in San Diego, California. It is a hilly seaside community, occupying 7 miles of curving coastline along the Pacific Ocean within the northern city limits. La Jolla had the highest home prices in the nation in 2008 and 2009; the average price of a standardized four-bedroom home in La Jolla was reported as US $1.842 million in 2008 and US $2.125 million in 2009. The 2004 estimated population of the 92037 ZIP code was 42,808 while the La Jolla community planning area had an estimated population of 31,746 in 2010. La Jolla is surrounded on three sides by ocean bluffs and beaches and is located 12 miles north of Downtown San Diego, and 40 miles south of Orange County California. The climate is mild, with an average daily temperature of 70.5 ¡F. La Jolla is home to a variety of businesses in the areas of lodging, dining, shopping, software, finance, real estate, bio-engineering, medical practice and scientific research. The University of California, San Diego is located in La Jolla, as are the Salk Institute, Scripps Institution of Oceanography, Scripps Research Institute, and the headquarters of National University.
Local Native Americans, the Kumeyaay, called this location mat kulaaxuuy, land of holes. The topographic feature that gave rise to the name holes is uncertain; it probably refers to sea-level caves located on the north-facing bluffs, which are visible from La Jolla Shores. It is suggested that the Kumeyaay name for the area was transcribed by the Spanish settlers as La Jolla. An alternative suggestion for the origin of the name is that it is a corruption of the Spanish word la joya, which means the jewel. Despite being disputed by scholars, this origin of the name La Jolla has been widely cited in popular culture. That supposed origin gave rise to the nickname Jewel City, which was once commonly used but now exists mainly in commercial references.
During the Mexican period of San Diego's history, La Jolla was mapped as pueblo land and contained about 60 lots. When California became a state in 1850, the La Jolla area was incorporated as part of the chartered City of San Diego. In 1870 Charles Dean acquired several of the pueblo lots and subdivided them into an area that became known as La Jolla Park. Dean was unable to develop the land and left San Diego in 1881. A real estate boom in the 1880s led speculators Frank T. Botsford and George W. Heald to further develop the sparsely settled area. In the 1890s the San Diego, Pacific Beach, and La Jolla Railway was built, connecting La Jolla to the rest of San Diego. La Jolla became known as a resort area. To attract visitors to the beach, the railway built facilities such as a bath house and a dance pavilion. Visitors were housed in small cottages and bungalows above La Jolla Cove, as well as a temporary tent city erected every summer. Two of the cottages built in 1894 still exist: the Red Roost and the Red Rest, also known as the Neptune and Cove Tea Room, vacant since the 1980s. The La Jolla Park Hotel opened in 1893. The Hotel Cabrillo was built in 1908 by Squire James A. Wilson and was later incorporated into the La Valencia Hotel.
La Jolla became an art colony in 1894 when Anna Held established the Green Dragon Colony. This was a cluster of twelve cottages designed by Irving Gill, who had moved to San Diego only a year earlier and later became San Diego's best-known architect. The La Jolla Playhouse was founded in 1947 by Gregory Peck, Dorothy McGuire, and Mel Ferrer. It became inactive in 1959, but was revived in 1983 on the University of California campus under the leadership of Des McAnuff. It now incorporates three theaters: the Mandell Weiss Theatre (1983), the Mandell Weiss Forum (1991) and the Potiker Theater (2005). The Museum of Contemporary Art San Diego was founded in 1941 in La Jolla, in the former home of Ellen Browning Scripps. The museum has undergone several renovations and expansions, the most recent in 1996 by Robert Venturi of Venturi, Scott Brown & Associates.
La Jolla is the location of Torrey Pines Golf Course, site each January or February of a PGA Tour event formerly known as the Buick Invitational and now (since 2010) called the Farmers Insurance Open. In 2008, Torrey Pines also hosted the 2008 U.S. Open. Nearby are the de facto nude beach, Black's Beach, and the Torrey Pines Gliderport. Downtown La Jolla is noted for jewelry stores, boutiques, upmarket restaurants and hotels. Prospect Street and Girard Avenue are also shopping and dining districts. The Museum of Contemporary Art, founded in 1941, is located just above the waterfront in what was originally the 1915 residence of philanthropist Ellen Browning Scripps. The museum has a permanent collection with more than 3,500 post-1950 American and European works, including paintings, works on paper, sculptures, photographic art, design objects and video works. The museum was renamed Museum of Contemporary Art San Diego in 1990 to recognize its regional significance. Beaches and ocean access include Windansea Beach, La Jolla Shores, La Jolla Cove and Children's Pool Beach. For many years, La Jolla has been the host of a rough water swim at La Jolla Cove. In 2011, the La Jolla Community Foundation commissioned various artists to contribute to the scenery of the town, through various murals. Some of the artists that are featured in the series are John Baldessari, Julian Opie, and Kim MacConnell. There are 11 murals in the series, all of which will be on display for 2 years.
Source: La Jolla on Wikipedia